Know the dangers and protect your clients from the harsh winter weather.
Icy sidewalks creating tricky obstacles. Slippery floors from snow dragged indoors. Frigid temperatures making it difficult to stay warm. These are some of the risks faced by seniors in the winter – just to name a few.
According to the Pittsburgh Gazette, one neurosurgery resident recognized these challenges and joined a team of volunteers called the Alleghany Snow Angels. Stocked with snow shovels and salt, these volunteers hit the road to ensure that the seniors in their community could make it to their appointments and their home care providers could make it in to their homes to provide healthcare. This type of community involvement helps seniors receive the care they need and is a great example of how citizens can help keep seniors safe during the winter.
Seniors in assisted living and those who have visiting caregivers are especially susceptible to the struggles that winter may bring. Those in nursing homes may not face the same hardships, but winter could still bring challenges. From loss of muscle and lower bone mass, to vision problems and medication side effects, your clients have a difficult season ahead of them. Here's how you can limit the challenges and help keep them safe:
1. Clear all walkway obstacles.
Navigating a slippery floor can be difficult for the best of us, but add mobility difficulties and you've created an almost impossible situation. For those living in nursing homes, your organization needs to maintain all outdoor pathways by ensuring they are cleared of any ice and snow while also spreading salt. When visitors enter the building, encourage them to use floor mats and have a staff member frequently drying entrance ways and slick areas.
A small puddle may be an insignificant issue until someone slips and falls – and falls are the most common injury among seniors. While maintaining walkways, be sure to clear the hallways of random objects so that your clients have access to a rail when they need one. Clients will also benefit from wearing rubber, non-slip shoes and replacing the tip of their cane when it becomes smooth from use. Preventing a fall-related injury can be the difference between life and death for seniors.
Seniors in assisted living facilities may not need to worry about snow removal, but for those living at home, it's important to have coordinated maintenance. If you have clients who are struggling to find help, you can recommend that they call the Better Business Bureau to find a reputable company to hire, find a neighborhood teen who can handle snow removal for a small fee or even call a local church to see if they have a program that coordinates snow removal for shut-ins.
2. Keep your clients toasty warm.
Hypothermia kills about 600 Americans every year— and half of the people impacted are over the age of 65. Clients in assisted living and home care situations should be reminded often to keep their thermostat at 65 degrees or warmer. This will help keep them safe, while also helping to prevent their pipes from freezing. Older adults lose body heat rapidly and body changes as they age make it more difficult for them to recognize when they are too cold. A cold front can turn into a dangerous situation before they even know there is a problem.
Know the signs of hypothermia:
Cold feet and hands
Swollen or puffy appearance of face
Pale skin, cold to the touch
Shivering
Slowed speech or slurred words
Drowsiness, anger, confusion or memory loss
Trouble walking and clumsiness
Stiff movements
Weak pulse and shallow/slow breathing
Loss of consciousness
Always remind your clients to keep warm by layering clothing and bundling up – even when staying indoors. If your clients need to attend appointments or visit a store, ensure that they are dressed for the weather, equipped with a hat and gloves, weatherproof jacket and warm, protective, non-skid shoes.
3. Illness, medication and cold weather – oh my!
Some illnesses may make it more difficult for older adults to maintain adequate body temperatures. Your clients should speak with their doctor regarding any complications that may impact them in the winter. Certain medications also have a similar effect, which should also be discussed with care providers. While reminding them to clarify complications with their doctor, it's a also great time to make sure that they are well-stocked with their prescriptions. A snow storm is not a good time to run out of an important medication.
4. Combatting the psychological impacts of winter
We know winter weather can keep you indoors for extended amounts of time — but what does that type of isolation mean for seniors? The psychological impacts of winter impact seniors in general, regardless of their living situations. 42.6 million older adults experience loneliness on a daily basis without adding winter weather to the mix. Social interactions like group activities can help them combat loneliness.
While falls and hypothermia are at the top of your list of concerns during the winter, we also need to pay attention to winter SADness. Seasonal affective disorder (SAD) sets in when the weather gets colder and the amount of daylight shrinks.
Loss of energy
Changes in appetite and sleeping patterns
Irritability
Loss of interest in socializing
Like other forms of depression, your clients should discuss these feelings with their doctor who can then prescribe medication, a supplemented diet or vitamins that can help their condition.
The best thing you can do for your clients during winter months is continue to provide your exceptional level of care — even through the challenges of the snowy and cold weather. Reminding seniors of how they can best stay healthy and warm during the winter can help keep them safe. Consider the precautions we've covered and help your clients enjoy the beauty that winter brings!
When the temperature drops, how does your team handle the challenges faced by seniors? Let us know by commenting below!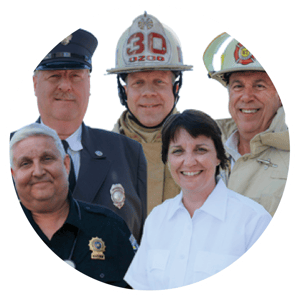 The Glatfelter Team
When this team of rockstars isn't immersed in the process of researching how to reduce the risks your organization faces, we share stories of our pets, kids and favorite pizza toppings—on the daily.
Related posts
Self-care is vitally important, especially for those working in the healthcare field. These 10 tips could be critical steps to avoiding burnout.
While rewarding, a lot can happen when you manage a healthcare organization. Be sure you're protected with these insurarance coverages.
To keep up with the demand for care, you'll need to address your agency's caregiver turnover rates. Use these tips to help increase caregiver retention.