Use these initiatives to get inspired, increase awareness and help keep your officers safe.
Here's a scary thought: we may be breaking traffic laws on a daily basis and not even know it. As someone in law enforcement, think back on how many times a car has sped by just inches away from you during a traffic stop or while you're working an accident on the roadway.
Unfortunately, these instances can lead to some terrifying outcomes. In fact, since 1997, more than 150 law enforcement officers have been killed after being struck by vehicles along America's highways.
Although all 50 states have enacted "Move Over" laws, stating that drivers should slow down and move over to another lane at the sight of flashing lights on the side of the road, the risk of injury or worse is still present. The National Safety Council shares these findings:
24% don't realize that there are legal requirements for what drivers must do when they see an emergency vehicle on the side of the road.
16% said they have either struck or nearly struck a first responder or emergency vehicle stopped on or near the road.
Between January and April of 2019, 16 emergency responders have been struck and killed by vehicles.
71% of U.S. drivers take photos or videos when they see an emergency vehicle on the side of the road responding to a fire or a crash, or simply making a routine traffic stop.
80% of drivers say they slow down to get a better look when they see an emergency response vehicle tending to a fire, crash or traffic stop—backing up traffic and creating safety hazards.
What you can do to increase awareness
Whether it's ignorance to your state's law or distracted driving, your department can, and should, take action to help increase awareness of your move over law. Use these 4 examples for inspiration:
Whatever awareness campaigns or tactics you choose to implement, it's critical to remind your community of what's expected when an emergency vehicle is stopped along a roadway:
Immediately slow down
Move over if you can safely do so
Switch to a lane that's not immediately next to the emergency vehicle, if possible
Best practices to keep in mind
Increasing awareness of the law within your community is a great way to keep this issue top-of-mind for drivers, but accidents are still bound to happen. Officers should always take proper precautions during traffic stops and roadway incidents to help minimize the chance of roadside accidents.
Consider the following during a traffic stop:
Situational Awareness. Conducting traffic stops or responding to roadway accidents may be a routine for you, but never assume that motorists will drive safely when approaching emergency response vehicles. Always be aware of your surroundings.
Patrol Car Positioning. How are you positioning your vehicle during a stop? Off-set positioning has the officer's vehicle behind the offender and about a half car width into the lane of travel. This leaves the police vehicle blocking approaching traffic from driving into the path of the officer.
Knowing your different approach tactics can help minimize exposure to certain dangers. For example, using the passenger side approach can help decrease the chance of getting hit by traffic.
PoliceOne recommends the following to help set up a safer work zone at roadway incidents:
As soon as an officer stops for an incident, they need to visually assess the scene in all directions before doing anything else.
A patrol car should be parked 50-100 feet behind the first "incident vehicle."
The blocking patrol car should keep rear lights on while reducing forward facing emergency lights and headlights to avoid blinding approaching drivers and first responders at the scene.
Use a reflective vest to help catch the eyes of drivers and reduce the chances of being hit.
Place traffic cones, flares and emergency lights behind the rear of the blocking patrol car. If in an area that can't easily be seen by oncoming traffic, place on the nearest clear stretch of road.
If possible, place flares, emergency lights and backup patrol cars in the lane next to the scene of the incident to create a space where responders can move around safely.
At the end of the day, increasing roadside safety and awareness of your state's move over law is a team effort, both within your department and in your community, and one that's worth your time and resources. After all, an officers' life could be depending on it.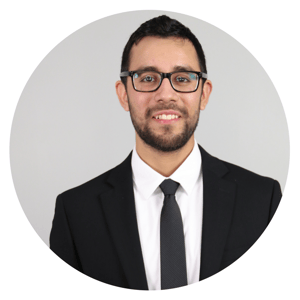 Richie Almeida, Marketing
Richie is an avid movie goer with an addiction to Sour Patch Kids. If he isn't at the movies, he is at the gym or on a hike trying to make up for his bad eating habits.
Related posts
We've pulled together the latest recommendations for schools, healthcare facilities, worship centers, municipalities and emergency responders.
Cities use drones to help with operations—and for good reason. Learn 8 innovative ways drones are being used to increase efficiency and possibilities.
A carefully thought out budget can positively impact your community. Consider these 3 tips to help stretch your budget and save more money in the long run.