Use these tips to help prep for various types of natural disasters.
Severe weather can bring a lot of uncertainty at any moment—making it critical for your school to have a preparedness plan in place long before it occurs. But there are various types of disasters to consider and prepare for—each requiring different preparation to ensure your school buildings, grounds and occupants are safe and secure.
Let's take a closer look at some tips to help ensure your severe weather preparedness plan is in top shape, including best practices to keep in mind before, during and after a storm, and preparing for 5 specific types of disasters, including tornadoes, hail, lightning, wildfires and hurricanes.
Severe Weather Preparation: Before the Storm
To be better prepared for when severe weather hits, planning is everything. The National Weather service (NWS) offers a few guidelines for developing a plan that's right for your school—starting with understanding terminology.
Educate yourself
Familiarize yourself with the basic lingo so you can better understand and prepare for what's to come. For example, do you know the difference between a "WATCH," "WARNING" and "ADVISORY"?
A

watch

means conditions are favorable for a severe storm or flooding. Timing, location or occurrence is still uncertain and you should prepare for hazardous conditions.
A

warning

means hazardous weather is expected or occurring and you should take shelter.
An advisory means weather conditions that cause inconvenience are expected or occurring—use caution.
Develop your action plan
Your county emergency management director or the National Weather Service (NWS) can provide guidance tailored to your school. The NWS recommends that you consider these elements:
School layout: examine your building and determine shelter areas. Consider working with school officials, local fire departments or building engineers for help. Remember that it's recommended to move students to the lowest level possible and to interior rooms away from exterior walls and windows.
Shelter Considerations: when mapping shelter areas, consider travel time (can students get there safely within three minutes?), size, space and quality of construction.
Method of notification: whether it's a speaker system, special tone or bell, come up with a method to notify everyone when it's time to seek shelter. Have a backup method in case you lose electricity.
School bus considerations: What will bus drivers do while at your school or during transportation?
Practice and review: practice and review your action plan to help educate students and staff, and address any areas that could be improved. This should be done at least annually and anytime physical building changes are made.
Sourcing weather information: a dependable source for getting weather information and updates will be critical. This can include a commercial radio, TV, community outdoor siren, the internet or a NOAA Weather Radio.
Severe Weather Preparation: During the Storm
So your school is in the midst of storm. What do you do? Act.
Monitor weather conditions: use your source for getting weather info to stay up-to-date with approaching storms, their severity and current conditions. Continue to monitor until the storm has passed.
Take action: while false alarms may happen, it's better to be safe than sorry. Take all severe weather warnings seriously and use your action plan. If possible, take notes on issues that take place while the plan is in action.
Remember: do not go near windows in the event of severe weather. Also refrain from opening windows or doors.
Severe Weather Preparation: After the Storm
Once you're certain the storm has passed, there are a few steps that the NWS suggests taking. These include:
Damage assessment: assess the building and exterior areas, including your playground, for damages.
"All Clear" message: following the storm announce your "all clear" message to alert students and staff that it's safe.
Post-storm review: take this time to review your action plan. What worked and what didn't? What could be improved? Review with your staff and adjust your plan as needed.
Now that we've covered the basics, let's dive a little deeper and review preparation for 5 specific weather disasters: tornadoes, hail, lightning, wildfires and hurricanes.
Tornadoes
Seconds count when a tornado warning hits, so developing a plan long before one touches ground is key. Every school is built differently and your tornado safety plan should be tailored specifically to your building design.
The NOAA/National Weather Service Storm Prediction Center highlights a few strategies to consider when developing your safety plan.
A tornado can happen with little or no lead time. Plan for this worst-case scenario to help ensure your plan can be executed during the majority of cases when lead times are in your favor.
Put as many walls between yourself and the tornado as possible to reduce the risk of flying debris.
If budget allows, consult an architectural engineer to discuss building strengths and weaknesses.
When doing new construction, these concepts should be considered and discussed with architects, engineers and builders to help ensure a tornado-safe school.
Portable classrooms are a huge risk. Getting students and staff out of these classrooms and into a safe area within the main building as soon as possible should be done when a watch is issued.
Large, open areas such as gymnasiums and auditoriums can be dangerous and shouldn't be used for shelter. Ideally, the lowest possible level of your school will be the safest.
Some additional strategies include:
Run tornado drills several times a year to keep students and staff refreshed on procedures. This also gives you an opportunity to fix any flaws that you find.
Keep an air horn or megaphone as a backup alarm system in case of power failure.
Keep students with disabilities in mind in your emergency planning.
Ensure someone knows how to turn off electricity and gas if the school is damaged.
Postpone lunches or assemblies in large rooms if severe weather is approaching.
If needed, keep students at school beyond normal hours and inform parents. A child is safer in a school than in a bus or car. If severe weather is approaching, avoid sending students home early since there is a chance that they'll be on the road when it hits.
Hail
Hail storms can develop quickly and do some serious damage to your property—resulting in costly repairs. While there are regions throughout the country that have a higher risk of hail storms—with the most dangerous region being the north-south corridor from Texas up through Nebraska and Iowa—heavy hail activity can affect states all the way to the east coast.
Review your buildings and grounds to help determine the potential for hail damage and minimize your risk. Here are a few construction features to evaluate, and preventative actions to consider:
Design and upgrade roofing systems to enhance structural integrity. This can include the consideration of local code building standards for wind and impact resistant roofing systems.
Evaluate windows for potential hail impact. Where necessary, consider upgrading to impact windows or utilizing shutters. Metal awnings can also help deflect hail impact.
Evaluate equipment and yard storage, and if necessary, use secured heavy tarps for protective covering.
After the storm, clear public areas like parking lots and pathways to minimize slips, trips and falls.
Lightning
Your school can have various high risk areas for lightning strikes, including open and sports fields, playgrounds and additional recess outdoor areas. To minimize this risk, school administrators, department heads, principles, educators and buildings & grounds staff should work together to develop a lightning protection program.
A strong program includes the following elements:
Regular review of weather reports prior to outdoor events and activities. Look out for thunderstorm watches and warnings and signs of developing storms nearby.
Designation of a chain of command to monitor weather and make decisions for canceling and evacuating outside events.
An emergency response plan that addresses issues such as decision-making responsibilities, communication methods, safe locations, and emergency and first aid methods.
Education of students and staff on the closest safe structure or location while considering the time it takes to get there. If buildings with no adequate grounding is available, vehicles with a hard metal roof and rolled up windows can be an alternative shelter.
Adherence to the 30/30 rule. If the time between lightning being seen and thunder being heard is less than 30 seconds, stay in a protected area until 30 minutes after the last thunder is heard.
Ability to seek shelter when thunder is first heard, dark clouds develop or lightning appears. Once the approaching storm reaches five miles, or a 25 second count between lightning and thunder, the evacuation to a safe location should be completed.
The ability to help someone who was struck by lightning or who is showing signs of cardiac arrest, with prompt and aggressive CPR. Injured individuals should be moved to a safer location before starting CPR.
DO NOT: seek shelter under isolated trees or in partially-enclosed buildings
Wildfire
While you may associate school fires with malfunctioning heating units, kitchen mishaps or a science classroom experiment gone wrong, wildfires shouldn't be overlooked. This is especially important for schools in the west and in rural areas where dry climates and wind can increase your risk.
Developing a Fire Management Plan can help better protect your school and position you to best respond to risk. Here are a few items to consider including in your plan:
Talk with your local fire officials about your school's fire exposures.
Provide fire officials with a tour of your school to gain their insight on possible hazards.
Determine if your school is in accordance with local fire codes.
Discuss ways your staff can help fire officials in protecting your school.
Join or initiate a local wildland fire protection planning group.
Develop a management plan to monitor ongoing fire conditions.
Establish a fire alarm system.
Identify vulnerabilities
Gain an understanding of your school's vulnerabilities, such as power, communications equipment and other items that may be damaged in a fire.
Develop diagrams for the fire department to use during emergency fire response.
Have an understanding of how a wildland fire could impact your school's operations and implement contingency solutions into your recovery plan.
Create an external defensible fire zone
Establish a 30-foot clear space around the perimeter of your school. This includes removing grass, dead tree limbs, brush and other combustible materials.
In forest areas, clear low lying combustible materials up to a six-foot height.
Gain an understanding of how a fire could approach your school. Canyons and deep slopes can greatly increase the speed of a fire, while ridges may slow them down. Fire breaks and roads can buffer an approaching fire.
Internal fire prevention measures
Clear trees, brush and other vegetation away from power lines.
Trim branches that overhang your roof.
Store fuels a safe distance from buildings and perimeter areas.
Maintain a minimum of 30-feet of clear space between combustible vegetation and buildings and important structures.
Keep roof gutters free from leaves and debris.
Use fire-resistant or non-combustible roofing and building materials for new construction, repairs or remodels.
Develop fire-resistant landscaping techniques for ground cover, plants, brushes and trees.
Install and/or relocate outside fuel tanks at least 25 feet away from any structures and aligned so that the ends of any tank are not directed at any building.
Hurricane
While there's typically an advance warning of incoming hurricanes—allowing for ample time to close your school buildings—you should still prepare to help ensure you're able to resume school quickly after the hurricane passes.
Work with your custodial and maintenance teams to help better protect your school's building and grounds. Ready also offers a hurricane toolkit to help with continuity planning and protecting your school. While this is targeted toward businesses, many of these strategies are still beneficial to schools.
With continuity planning, you should keep the following in mind:
Identify your risk – complete a self-assessment to help determine risk factors that need addressed in order to reopen your doors as soon as possible following a disaster.
Develop a plan – based on the assessment findings, develop a preparedness plan for your school's key elements that includes actions that need to be taken to reduce your risk and ensure safety. Key elements include:

Students and staff
Surroundings such as signs, flagpoles, trees, playgrounds, etc.
Space, which includes nonstructural risks like critical contents and chemicals
Systems such as mechanical, fuel, electrical, lightning protection and sewer and water management.
Structures including your roof, soffits, gutters and downspouts, wall systems, etc.

Take action – after creating your preparedness plan, put it into action and document the steps taken with signatures, photographs, receipts, etc.
Check out the Ready toolkit for the full self-assessment and to dive deeper into each suggestion. Some additional tips to reduce the impact of this type of disaster:
Back up essential data before the storm.
Relocate sensitive equipment and paper documents.
Prepare for remote learning if the building can't be occupied.
The best protection against severe weather is preparation, and when disaster strikes, you'll want to make sure you're fully covered. Take time long before any major storm to review your insurance policy with your agent and ensure that you have adequate coverage to keep you better protected. If you're not happy with your coverage or don't currently have coverage, talk to someone on the Glatfelter team to learn more about it. Remember that it's always better to be safe than sorry.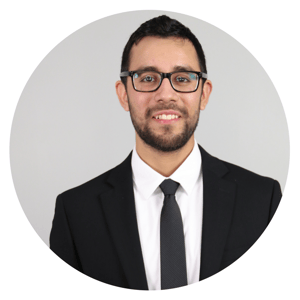 Richie Almeida, Integrated Marketing Specialist
Richie is an avid movie goer with an addiction to Sour Patch Kids. If he isn't at the movies, he is at the gym or on a hike trying to make up for his bad eating habits.
DISCLAIMER
The information contained in this blog post is intended for educational purposes only and is not intended to replace expert advice in connection with the topics presented. Glatfelter specifically disclaims any liability for any act or omission by any person or entity in connection with the preparation, use or implementation of plans, principles, concepts or information contained in this publication.

Glatfelter does not make any representation or warranty, expressed or implied, with respect to the results obtained by the use, adherence or implementation of the material contained in this publication. The implementation of the plans, principles, concepts or materials contained in this publication is not a guarantee that you will achieve a certain desired result. It is strongly recommended that you consult with a professional advisor, architect or other expert prior to the implementation of plans, principles, concepts or materials contained in this publication.

This blog post may contain the content of third parties and links to third party websites. Third party content and websites are owned and operated by an independent party over which Glatfelter has no control. Glatfelter makes no representation, warranty, or guarantee as to the accuracy, completeness, timeliness or reliability of any third party content. References to third party services, processes, products, or other information does not constitute or imply any endorsement, sponsorship or recommendation by Glatfelter, unless expressly stated otherwise.
Related posts
Consider these best practices to avoid significant property damage, costly repairs and potential interruptions to your school day due to pipe freezing.
It's crucial to understand the fundamentals of employment practices, why they're important and ways you use them to help protect your organization and your most important asset, your...
How often are you inspecting your school's playground? Here are a few tips to remember to help keep your students out of harm's way.