We're breaking down the need-to-know New York cancer coverage details and explaining how they could impact your fire department and your volunteers.
As a volunteer firefighter, you are dedicated to serving your community. In doing so, you selflessly expose yourselves to all sorts of risks, one of which is the development of cancer. In fact, cancer is the leading cause of firefighter line-of-duty deaths.
We understand these risks, and why they're worth it to you, because we've stood shoulder to shoulder beside first responders during the good days and the bad ones. The VFIS team has over 760 years of combined ESO experience—and we have the backs of our brothers who serve.
For a long time, we've needed a better way to protect the men and women who volunteer. We've worked to fight for additional protections and to help pass legislation to better enable this fight. We're so proud to see The New York State Volunteer Firefighter Cancer Disability Law pass. It is both long-awaited and well-deserved.
If you're currently a volunteer firefighter, chances are you've heard of this Law whether your reside in New York state or not. And chances are that this type of legislation will impact you at some point either way. The buzz surrounding it becoming a Bill, an Act and now a Law has been tremendous--and rightfully so. People are excited about the changes they see coming and the governmental recognition of the health issues of volunteer firefighters, as well as the areas that they need more support.
As great as this news is for the industry, it inevitably comes with lots of questions. We've tried to break down some of the most common ones, and are here to answer more whenever you have them.
What does the Law mean?
Starting on January 1, 2019 all New York State fire districts, departments or companies that have eligible volunteer firefighters will have to show proof of insurance coverage that meets the requirements of this Law or show what is determined to be satisfactory proof that they have the ability to pay compensation to ensure adequate coverage for all eligible volunteers.
Who's eligible for the Enhanced Cancer Disability Law?
Right now, this Law pertains to volunteer firefighters in New York, but it's important to note that similar legislation has already passed in Georgia and is likely to continue to be adopted by other states across the nation. At this time, the Law generally includes any New York State volunteer firefighters who meet the following criteria:
Active member
Has served at least 5 years of faithful and actual service as an interior firefighter
Has passed 5 annual certified mask fitting tests as required to be an interior firefighter rating
Has passed a physical exam upon becoming an interior firefighter which showed no evidence of cancer covered by this law.
This legal language may seem confusing, but typically, anyone who spent time volunteering as an interior firefighter for at least 5 years and who can prove this by having passed 5 yearly certified mask fittings should be eligible. It's important to note that in order to be eligible, you also have to have passed a physical exam when you became an interior firefighter, and that exam has to have showed no signs of a covered cancer.
Currently active members with 5 or more years' service as an interior volunteer firefighter in the past, (which do not have to be consecutive years in order to quality), may be eligible. If you have served those years at a few different fire departments, please be sure to look into the coverage and benefits that you may be eligible for.
What types of cancer are covered?
There are lots of myths and exaggerations out there when it comes to the topics of firefighters and their cancer risks. It's important to separate the inflated, false statistics from the facts. Despite this, it is true that firefighters were shown to be at additional risk of developing several kinds of cancers. For example, they are shown to have a 1.28 times greater risk of developing prostate cancer than the general population. As reported in "Firefighter cancer fact check" by FirefighterCancerSupport.org, cancer has caused 61% of career firefighter line-of-duty deaths since 2002, while heart disease caused about 18%. Overall, firefighters have a 9% higher risk of being diagnosed with cancer and a 14% higher risk of dying from cancer than the general U.S. population, according to NIOSH study results. The New York State Volunteer Firefighter Enhanced Cancer Disability Act will require coverage of:
Cancers impacting the breast or prostate
Cancers impacting lymphatic, digestive, neurological, hematological, urinary or reproductive systems
Melanoma (skin cancer)
Who is responsible for providing coverage?
The Law will require any fire district, department or company with eligible volunteer firefighters to provide and maintain insurance coverage. There is a deadline to have this accomplished by 1/1/19. Typically, if you have been a volunteer interior firefighter for multiple fire departments, the department that you currently serve or, if you've left the fire service, the department you have most recently served is responsible for providing your coverage.
In legal language, this is defined at the Authority Having Jurisdiction, which means the governmental body that possesses legal responsibility to provide fire protection, and per Title 9 of the New York State Codes Rules & Regulations, it names the "Authority Having Jurisdiction" as:
For a fire district and joint fire district it shall mean the board of fire commissioners.
For a village it shall mean the village board of trustees.
Fore a fire protection district it shall mean the town board that contracts to provide fire protection.
For a city it shall mean the governing body vested with such power.
How can I provide coverage at my fire department? What do I need to do?
This task might seem overwhelming and daunting, and yet it's such an important one for the fire service industry. We're here and ready to help walk you through the process step-by-step. Call 800.233.1957 or email benefits@glatfelters.com. Our Specialty Benefits Program offers low cost coverage at just $137 per member, and a simple, 1-page application. We'll help you get things done before the deadline, so you can rest easy and let your crew know that their safety is your priority.
I have legal questions regarding this Law. Where can I find answers?
As we are not attorneys, we encourage you to take all legal questions to your local legal counsel, where they can provide a complete analysis of all aspects of the legislation. Like legislation often does, it can seem complicated. Be sure to get answers from someone you understand and trust.
I'm a volunteer firefighter but I do not live in New York. Will my department need this coverage?
At this point, Georgia has passed its own version of this Law as well, and it's being fought for and supported in many states. It is very possible that this type of cancer legislation will continue to be passed among other states across the nation as time goes by.
As volunteer firefighters continue to struggle with health issues like heart attacks, lung cancer, breast cancer, PTSD and other forms of cancer, they increasingly need and deserve support. We've worked to provide some of that support since our humble beginnings through the first tailored insurance coverages for those working within the fire service. We're happy for the continued opportunity to protect the people we serve beside and those who serve our communities every day.
There is no doubt that, for the specific cancers it covers, this New York cancer coverage is very much needed—and no doubt that it will be very much appreciated, but getting there may seem confusing right now for fire districts and departments in New York. With the right guidance and the right partner, the process can be made simple, and, when it's all said and done, the impacts it will provide will be tremendous. We look forward to seeing this type of legislation spread across the nation.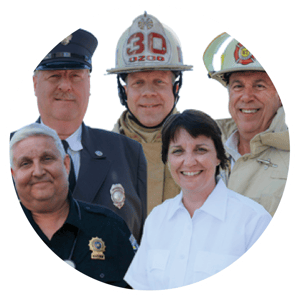 The Glatfelter Team
When this team of rockstars isn't immersed in the process of researching how to reduce the risks your organization faces, we share stories of our pets, kids and favorite pizza toppings—on the daily.
Related posts
The station has a dedicated focus on holistic health and wellness — unprecedented (but greatly needed) across the industry.
If you're experiencing more than the winter blues, you could be one of the half a million people in the U.S. suffering from Seasonal Affective Disorder.
To find resources designed specifically for emergency responders, check out ResponderHelp.com — an emergency responder's one-stop, free resource!