Are you prepared for sewer back-ups?
As indicated in the New York Times, New York City alone experienced 15,000 back-up complaints in 2013. 62 percent of the complaints were caused by a buildup of fat, oil and grease (FOG). These backups cost the city about $4.65 million that year.
It's essential to be prepared for these types of back-ups within the homes and businesses of your municipality, especially because the public is not fully educated about how to prevent them. Putting together a solid maintenance plan is imperative. No matter how large or small waste water treatment operations are, they are exposed to damage and losses from sewer back-up events. These harmful events could be reduced by developing an appropriate maintenance program.
What does your sewer maintenance plan look like?
Consider the following example of a sewer maintenance plan and put one into place for your business today: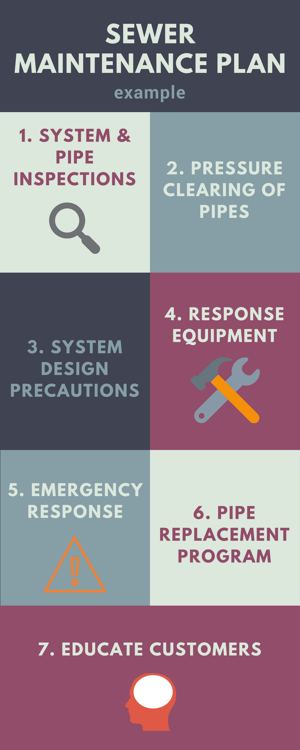 1. System & Pipe Inspections—Regularly check for cracked or deteriorating pipes, leaking joints or seals at the manhole, line plugs, accumulation of debris and grease and other problems. Test with TV camera systems or smoke leak methods. Inspect lift station pumps, motors, impellers and associated equipment. Alarm the company SCADA system if pump failure occurs at a lift station.
2. Pressure Clearing of Pipes—Implement a sewer flushing program to keep lines clear of debris, tree roots, grease and other blockage with high pressure water. Review 'trouble call records' to pinpoint problem areas. Follow up with customers when they are potentially responsible for a problem area and check back to make sure they work to get it resolved or give a written notice.
3. System Design Precautions—Identify problem areas caused by wet weather conditions, customer usage and improper piping design. Support regulations that seek to eliminate non-sewer connections (roof drains and sump pumps) during construction projects. Establish programs to control discharge of fats, oils and grease. Require restaurants to provide documentation that grease traps are cleaned annually. Consider NYC's policy: The city's approximately 24,000 food establishments can be fined if their grease receptors fail inspection: up to $10,000 a day.
4. Response Equipment—Always carry equipment suitable to fix common back-up events. Create agreements with outside contractors if they handle these operations on an as-needed basis. (Make sure that the contractor has proper staffing and equipment, and review their Certificate of Insurance.)
5. Emergency Response—Create a written plan to use with back-up events that meets or exceeds state requirements and provide your customers with a number to call if a back-up occurs.
6. Pipe Replacement Program— In addition to handling system line breaks, develop a plan to proactively replace aging pipes. Older problem areas should receive priority.
7. Educate Customers—Outline the steps that your customers can take to help prevent sewer back-up events such as keeping diapers, grease and other problem materials out of the system and communicate with them regularly. For more tips on customer communication, visit Sewer Back-up Customer Notice and Sewage Spill Clean-up Tips on our website.
Take every chance you can to make sure you're prepared for sewer back-ups within your community. Unfortunately, the public is often unaware of the potential dangers they are causing in their sewage lines. It's important to communicate the high impact of these events and be ready to implement your repair plan whenever necessary.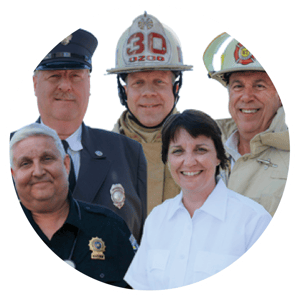 The Glatfelter Team
When this team of rockstars isn't immersed in the process of researching how to reduce the risks your organization faces, we share stories of our pets, kids and favorite pizza toppings—on the daily.
Related posts
A carefully thought out budget can positively impact your community. Consider these 3 tips to help stretch your budget and save more money in the long run.
Many don't realize that there are legal requirements when passing an emergency vehicle on the side of the road, making awareness campaigns critical.
As technology continues to advance, so do cybercrime tactics. Use these tips to help ensure your municipality isn't the next victim of a cyberbreach.