Firefighter + EMT PTSD:

what it is, what it looks like + what you can do
An estimated 30% of first responders develop behavioral health conditions compared to about 20% of the general population. This might surprise outsiders, but as someone who stands on the front lines and experiences dangerous threats, death, gruesome injuries, grief and pain — you understand the risks all too well.
What is Post-Traumatic Stress Disorder?
Post-traumatic Stress Disorder (PTSD) is described by the American Psychiatric Association as a psychiatric disorder that can occur in people who have gone through a traumatic event — which firefighters and paramedics regularly experience as a part of their duties.
Fires, medical emergencies, natural disasters, serious accidents, terrorist acts — the community calls you to scenes filled with trauma. And it comes with a cost.
Watch to hear a fellow firefighter's story. Thank you to Brandon of Couchton Fire & Rescue for taking the time to talk to us about this important issue.
What are the signs of first responder PTSD?
"Sometimes, it's easier to recognize PTSD in others rather than ourselves," says the International Association of Fire Fighters. Some signs of PTSD include:
Nightmares and flashbacks (these can occur long after an event has occurred and are often the first sign of PTSD)

Intrusive thoughts (reliving and reviewing the traumatic incident over-and-over again in your mind)

Intense feelings of anger, fear, sorrow or detachment

Strong and unplanned negative reactions towards reminders of the trauma

A lack of sleep (often a result of nightmares)

Inability to focus or a busy mind

Becoming startled easily
In addition to trauma, what puts a firefighter or EMT at an increased risk for PTSD?
Some first responders may be at higher risk than others. A few additional risk factors include:
Ongoing trauma and the amount of trauma witnessed can play a significant role (meaning career emergency responders and responders with many years of experience may be at an increased risk)
Being a leader or supervisor who feels increased responsibility or "decision ownership"
Witnessing death during a traumatic event
Having mental health issues (anxiety, addiction, depression, etc.)
Lacking a support system or being unmarried
Working long hours without recovery time/sleep
How can my emergency service organization help combat PTSD?
EMT and firefighter PTSD is complex. There is no simple "cure" for PTSD and responders can't prevent their exposure to trauma. However, you can carefully focus on what to do before and after trauma exposure.
1. Educate your team
Teach your crew how to recognize PTSD and encourage them not to shrug off red flags. If they experience PTSD symptoms, like nightmares, it's time to take action. If not, it could further impact them, their loved ones and fellow responders.
Leaders can also gather a useful list of resources from trusted sources, like the International Association of Freighters, National Volunteer Fire Council and National Association of Emergency Medical Technicians, and post them around the station.
2. Encourage the trauma survivor
The Anxiety and Depression Association of America (ADAA) recommends the following protective measures to help prevent long-term suffering after a traumatic event:
Having a support system with regular and consistent contact from family members, loved ones or important individuals
Disclosing trauma event details and having an open discussion with loved ones
Self-identifying as a trauma "survivor" rather than "victim"
Taking time to have fun as a group and emphasize positive emotions and laughter
Trying to look for positive meaning from the event
Lending a helping hand to someone else who has experienced similar trauma
Understanding that you have the ability to heal
3. End the stigma
In a recent survey, 92% of firefighters stated that they would not seek behavioral healthcare because of the associated stigma. It's important to have a wellness culture in your fire department or rescue squad where seeking help when needed isn't only accepted, it's encouraged.
Depending on the situation, someone experiencing signs of PTSD may want to consider a peer-support group, sleep therapist or specialized psychologist. If they don't know where to start, it's a good idea to check-in with their primary medical provider.
First responders cannot often avoid exposure to traumatic events, and with this exposure comes a high risk for the development of PTSD. It's important to be aware of the signs and symptoms, talk to your crew and take action.
Do you know about the first responder crisis hotline?
Share this resource with your crew. ⬇️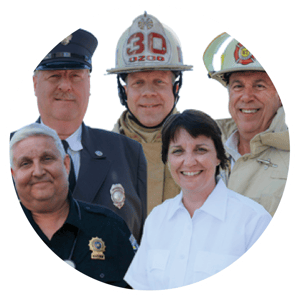 The Glatfelter Team
When this team of rockstars isn't immersed in the process of researching how to reduce the risks your organization faces, we share stories of our pets, kids and favorite pizza toppings—on the daily.
Related posts
The station has a dedicated focus on holistic health and wellness — unprecedented (but greatly needed) across the industry.
If you're experiencing more than the winter blues, you could be one of the half a million people in the U.S. suffering from Seasonal Affective Disorder.
To find resources designed specifically for emergency responders, check out ResponderHelp.com — an emergency responder's one-stop, free resource!