Ways that your religious organization can prepare for a day that hopefully never comes
"You had parents screaming about their kids. They got stuff in front of them that they never imagined they would see in their life…Not really a war zone, because at least people in a war know they're in the middle of a war. This is just hard to describe." –Paul Brunner, a first responder to the 2017 Sutherland Springs Church massacre in Texas
Religious entities have been a target for mass shootings in recent years. It can be a hard concept to wrap your head around—trying to understand why somebody would bring so much violence into a place of worship. Emma Green, a reporter for The Atlantic said, "Shootings at houses of worship can be particularly disorienting for both parishioners and community members—attacking during prayer is a way of hitting people at a moment of vulnerability, and exploiting the openness on which many communities pride themselves."
It's not only important to train your congregation on how to safely react and respond during an active shooter situation, but to also have a system in place to recover from the experience after it's over. Prepare your members and community in every way that you can.
ALICE: A way to train for survival
There are many resources available for your congregation to train for the unthinkable to happen, including the ALICE Training Program. The program was created by the ALICE Training Institute with the knowledge that 60 percent of active shooter situations end before police and first responders arrive, according to a 2014 FBI report. It's imperative that individuals know the ways to increase their chances of survival before emergency services arrive at the scene. ALICE's program called "Worship without Worry" provides certifications for many of those providing services in a house of worship, including ushers, greeters, nursery attendants, teachers and servers.
The 5 stages of safe response: ALICE

The Alert stage is active when you first discover signs of a serious threat and recognize signs of danger.
The Lockdown stage involves barricading the room you're in and planning to either evacuate or counter the attack while communicating with police and using mobile devices at proper times.
The Inform stage requires clear and brief language to be used while spreading the message of the location, direction and description of the intruder. Video surveillance, 9-1-1 calls and PA systems are important during this stage.
The Counter stage does NOT mean physically approaching or attacking the shooter. It's a last resort situation in which you attempt to distract them from shooting precisely with noise, movement and distance.
The Evacuation stage includes taking advantage of safe and strategic escape routes as soon as they become open. The trainings include specific tips for this stage, such as the proper technique to break out of a window.
You can learn more at: https://www.alicetraining.com/
The "Healing Heroes" that offer emotional support
After experiencing a mass shooting, it's common for people to suffer from symptoms of Post-Traumatic Stress Disorder (PTSD). Your congregation and community will need help after such a violent, unpredictable and senseless event occurs. Lend a helping and comforting hand with the following aspects:
Knowledge of symptoms—Watch for anxiety, irritability, crying, paranoia, trouble sleeping, sudden flashbacks, withdrawal, numbness and confusion happening to any of your members or community.
Reassurance—Survivor's guilt sets in when someone feels guilt for having survived a shooting or violent event when others did not. Remind your congregation to trust in their faith and the power of prayer, and that they've done all they could have to try to save others.
Community events—It can be easy to feel alone while recovering from a shooting; use your entire community to build a support system and feeling of togetherness for the people coping and suffering.
Professional help—Mental health experts can be beneficial and provide "psychological first aid" to survivors after emotionally challenging events.
Pet therapy—After the Sutherland Springs church shooting in Texas, therapy dogs arrived to be "Healing Heroes" and offered comfort and relaxation to the community. There are several pet therapy organizations available across the country that your religious organization can partner with.
Preparing your congregation on how to safely and strategically react if an active shooter intrudes your service is vital. Most people who walk into your place of worship feel safe inside your walls. Maintain this feeling of comfort and security by developing helpful training plans and support systems for your community.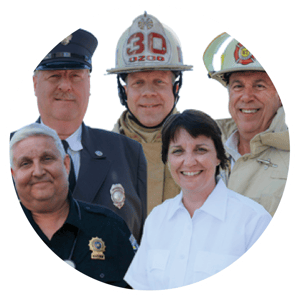 The Glatfelter Team
When this team of rockstars isn't immersed in the process of researching how to reduce the risks your organization faces, we share stories of our pets, kids and favorite pizza toppings—on the daily.
Related posts
Security has become a hot topic for all faiths, but the process of implementing new measures can be overwhelming. Keep these three steps in mind.
Fall is the best time to winterize your house of worship. Use these tips to keep your worship center and its members safe this winter.
Some worship centers are exploring new ways to grow and survive, including merging congregations. If you are considering a merger, keep these tips in mind.