Your municipality's information is in danger—here's how to protect it
Cyber attacks hit local governments without being selective about size. An online article by Government Technology reported on two cases of cyber crime that left devastating damage to the municipalities that fell victim. In 2016, an employee of the police department in Sarasota, Florida (population 56,000) clicked on and catalyzed a ransomware attack disguised as an email attachment. The hackers gained access to the city's 160,000 files and asked for $33 million to release and unlock them. The IT department had to unplug the entire city's computer system and reset everything in order to avoid paying the attackers.
In the same year, Cockrell Hill, Texas (population 4,200), experienced a similar ransomware attack. The department refused to pay the $4,000 demanded to unlock all of their files, so the hackers destroyed them. They lost all of the files within their police department developed since 2009.
The local governments of Sarasota and Cockrell Hill are not alone in experiencing breaches like these. Cyber crime is a massive threat, affecting somebody in America every 39 seconds. These attacks are not easy on the budget—the average cost of a data breach in 2017 amounted to $3.62 million dollars. On top of this, your organization's most important information could be pouring into the hands of cyber criminals without you knowing. The average length of time it takes for a data breach to be identified is 191 days.
Protecting your municipality's data, one of the most important resources within your organization, is a vital task. Knowing the avenues that hackers use and how to build extra protection around your sensitive information are the first steps to protecting your community's online presence.
An underground world
Did you know that there are roughly eight billion pages of public information on the Internet? This massive amount of information actually only makes up 4 percent of total web content. The other 96 percent lives in the part of the digital universe titled the "Dark Web." According to a CSOonline article, search engines can't find these private pages, which serve as markets selling credit card numbers, drugs, weapons, counterfeit currency, subscription information, hacking software and much more. This dense and unnerving place on the Internet is not all-powerful—there are ways that your municipality can help to prevent falling victim to the dangers of this underground world.
Take immediate action
You can begin today and increase your protections against cyber criminals immediately. Follow these important steps, and encourage your employees to do the same:
Use smart passwords. Yes, this has probably been advised to you numerous times in the past, but it's imperative to take your password strength seriously. These are the walls that block hackers from personal information. Cyber security professionals encourage the use of a mnemonic device representing memorable words or phrases. For instance, if you traveled to Europe with your parents in 2002, you could use a phrase such as, "I went to Europe with Mom and Dad in 2002" to create a password using the first letters from this saying: IwtEwMaDi2002!. The addition of special characters combined with changing your password about every six months will increase your password strength significantly.
Be cautious with your clicks. Phishing emails often bring dangerous links, pop-ups and attachments to your inbox. Opening these could give cyber criminals access into the information stored on your computer, so make sure to be careful and hover over the link before clicking. This will show you what link you are actually going to—verify that it's a safe and legitimate site. Follow guidelines from KnowBe4 to learn about the "red flags" to look for in the emails you receive.
Use trusted software to protect your PCs. Renewing contracts for software programs for the computers within your municipality on a regular basis is imperative. Using up-to-date programs could save you from a disaster.
Investing lots of time and attention to detail into your cybersecurity plan cannot be overlooked. Outsmart the criminals lurking in the Dark Web today by changing your passwords, being particular about what links you follow and protecting your PCs with strong, current software.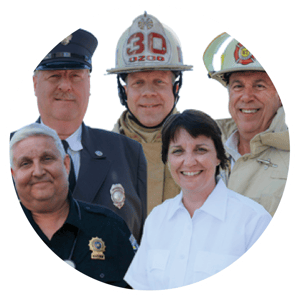 The Glatfelter Team
When this team of rockstars isn't immersed in the process of researching how to reduce the risks your organization faces, we share stories of our pets, kids and favorite pizza toppings—on the daily.
Related posts
A carefully thought out budget can positively impact your community. Consider these 3 tips to help stretch your budget and save more money in the long run.
Many don't realize that there are legal requirements when passing an emergency vehicle on the side of the road, making awareness campaigns critical.
As technology continues to advance, so do cybercrime tactics. Use these tips to help ensure your municipality isn't the next victim of a cyberbreach.