How firefighters and EMS providers can use storytelling to help recruit new members and get more community support.
We all love a good story. From the "top 10 strangest firefighter stories of the year" to "ambulance services bring patients home for the holidays" — we can't get enough. That's because whether it's a funny story about your first call or a heart-wrenching story about a call you wish you never had, stories have power. (And we're not just talking about legends from your deputy on a slow Tuesday night.)
Every message that we see, hear or read tells a story — whether it's intentional or not. If we analyze our daily routines, we'd realize that we experience more attempts of storytelling than we can count. From billboards to commercials and social media posts — businesses are screaming stories at us all day long.
Why storytelling?
Research shows that after we listen to a character-driven story, the brain releases oxytocin. And studies show that the more oxytocin the brain releases, the more people are willing to help others.
Forbes summarizes the power of this experience by saying:
Basically, this means that the better stories we tell, the more likely people are to engage with our cause, the more likely they are to empathize with the characters in the story, and the more likely they'll be to contribute their effort.
Think about your favorite brand. Maybe they sell trucks, phones or outdoor gear — but their stories sell more. Maybe it's the quality of American-made vehicles, the joy of Facetiming with your grandchildren or a breath of fresh air.
Whereas typical companies need to find a way to position their brand in the market (most reliable, newest technology, best durability) — storytelling is a particularly interesting opportunity for your crew since emergency service organizations already have a known cause worth supporting. You serve your community, protect your neighbors and save lives. So how can you harness the power of storytelling to inspire action?
What's your current story?
Before you can share, build or change your story — you have to analyze your current one. Ask yourself, members and strangers:
What's your organization's reputation in the community?
Outside of your members, their friends and family, and other public safety organizations — do you have a reputation with the general population?
Does your current vibe attract the tribe you want? (Basically, if you're looking for community-oriented, committed and hardworking applicants — is that how you're represented?)
When do people encounter your organization?
Do people only associate your organization with emergencies?
What do your community outreach tactics look like?
More likely than not, your general message is already at a great starting point and all you have to do is learn how to tell it. If it's not, start by developing some core values within your organization that everyone truly believes in and begin building a culture that lives those values every day.
The basics of effective storytelling
Your organization can tell top-level stories, like your overall role in the community, or smaller ones like the importance of supporting fundraisers. No matter what action you're ESO is trying to inspire, create a story using these basic building blocks:
3 Steps to building a story that inspires action:
1. Start with your audience
Whether or not you listen to a message depends on you. If a story doesn't pertain or speak to us at all, then it's ignored. We tend to gravitate toward stories that align with our lifestyle, beliefs and hobbies, and loath the ones that oppose them. That's why every great story starts with the audience in mind.
Whether you're trying to position your organization for a state grant, get people to join your junior member program or spread the word about bingo night — every part of your message should be tailored to your audience's wants, needs and desires.
2. Outline the basics
Communication expert Kit Pang recommends trying the XYZ method to craft a captivating story:
X = Your topic. What's you're story about?

Y = Story. What's interesting about your topic to your target audience?

Z = Purpose. And I'm telling you this because...
3. Build your message
Make a story that is specific, memorable and relatable.
Start with a question, powerful statistic or joke to engage the audience.
A simple way to make a story that helps people empathize with your message (aka gives them the ability to place themselves your boots) is to use "you" language or the "second person perspective". For example, "are you ready to make a difference in your community?"
Just when you think you're finished, review it again and cut out anything that doesn't directly relate to your topic.
Once you're to the point where you've developed several stories — make sure they work as a cohesive collection with the same underlying themes.
How and where to tell your story
Developing your story is only half the battle. Now you have to make sure your message is heard. You can either delegate this to the relevant committee (for example, the recruitment team could be devoted to sharing those stories) or to the person(s) who handles your community outreach.
To help narrow down your efforts, ask:
Where's the best place to reach my target audience? Maybe it's online, the newspaper, by email, by phone, a physical location, along the highway or at local charity events.
What's the best medium for my story? Is it a video, blog post, Facebook event, billboard or in-person meeting?
Is my story time-specific (like a fundraiser)? If so, what tactics will give me timely results?
Is there a way to partner with another organization to spread the word? Possibly a media outlet, city official or organization with similar goals.
Where can I "fill in the blanks"? Any extra ways to spread the word like road signs, flyers or online announcements.
At VFIS, we use story to help explain that insurance is truly more than a piece of paper. It's about being there in the moments that matter. Here's one example:
Two quick examples of storytelling in practice:
Let's say you're a fire department that would like more volunteers...
Audience: Young people who are interested in serving their community
XYZ Story:

X = Volunteer opportunities
Y = The percentage of your crew that is volunteer
Z = Volunteers have the opportunity to make a difference
The message = Did you know that 85% of your local firefighters are volunteers? If you'd like to do something that truly makes a difference in your community, join us for a no-commitment lunch next Saturday to talk about the benefits of our one-of-a-kind brotherhood!

How & where to tell your story: As a primary communication tactic, an outreach coordinator could join Facebook groups with similar audiences (for example, local ROTC and Boy Scouts Groups) and add a public message on the page. Your crew could also put road signs and flyers around local high schools and colleges.
If you'd like people to come to your chicken barbecue...
Audience: Local parents who are responsible for feeding their families and who value community safety
XYZ Story:

X = The chicken barbecue this Saturday
Y = This event helps fund the department which serves and protects your community every day
Z = By supporting your local ESO, you're supporting community safety
The message = This time the fire department is bringing the heat! If you'd like to meet and support the firefighters who proudly served 300 of your neighbors last year — please stop by our chicken barbecue on Saturday and say hello!

How & where to tell your story: This target audience sounds pretty close to the family and friends of your department. With that in mind, word-of-mouth and social media will be some of the best ways to help spread the word about the barbecue beforehand — so start by creating a Facebook event. This is also a scenario where road signs would be helpful, but this time around the elementary and middle schools where parents drive more often. And outreach coordinator could ask local news sources if they could cover the event the morning-of, however, you'll want to save these types of favors for your bigger events/announcements throughout the year.
Tell us: what action does your crew hope to inspire? And what kind of story could you tell?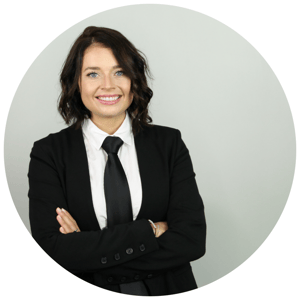 Bri Cappella, Integrated Marketing Specialist
Bri is an over-enthusiastic dog mom, pop culture fanatic and Instagram addict. She enjoys eating pizza, practicing yoga and hiking.
DISCLAIMER
The information contained in this blog post is intended for educational purposes only and is not intended to replace expert advice in connection with the topics presented. Glatfelter specifically disclaims any liability for any act or omission by any person or entity in connection with the preparation, use or implementation of plans, principles, concepts or information contained in this publication.

Glatfelter does not make any representation or warranty, expressed or implied, with respect to the results obtained by the use, adherence or implementation of the material contained in this publication. The implementation of the plans, principles, concepts or materials contained in this publication is not a guarantee that you will achieve a certain desired result. It is strongly recommended that you consult with a professional advisor, architect or other expert prior to the implementation of plans, principles, concepts or materials contained in this publication.
Related posts
These conversations are difficult for everyone involved and, as the message-deliverer, you play an especially critical role in guiding the conversation.
How the cumulative effects of exclusionary behavior could negatively impact your volunteer and employee retention rates—and 7 ways leaders can promote a more inclusive culture.
Let's take a look at the roadway hazards your crew faces and review how your ESO can implement policies to help address them.