Train your employees to react strategically
An active shooter situation can happen anywhere, at any time, and your municipality could be a target for a mass shooting. Decisions made and actions taken by a local government could lead to frustrated residents and outrage across communities. Local governments can also be targets of acts of terrorism.
In 2011, Arizona Representative Gabrielle Giffords was meeting the people of Tucson in the parking lot of a supermarket during an event titled "Congress on Your Corner." She had just been re-elected for a third term. A man walked out of the supermarket, shot Giffords in the head and killed five others attending the event, including Christina Green—a third grader.
"This kind of thing just doesn't happen in Tucson." –Chris Cole, Tucson Police Officer
"I am horrified by the senseless attack on Congresswoman Gabrielle Giffords and members of her staff. An attack on one who serves is an attack on all who serve…Acts of threats and violence against public officials have no place in our society. Our prayers are with Congresswoman Giffords, her staff, all who were injured and their families. This is a sad day for our country." –John A. Boehner, House speaker at the time of incident
The shooter was stopped by people in attendance at the event, some of whom had already been shot. These local heroes risked their lives by hitting the shooter on the back of the head with a chair, tackling him, wrestling the magazines and gun from his hands and restraining him until police and first responders could arrive. Others immediately started helping those who had been injured, including Giffords.
Protect your municipality and your community members by providing training on how to safely prepare, react and recover to an active shooter situation. This training equips your community with more people ready to jump into action and save lives like the few who did so in Tucson. Being as prepared as possible for a mass shooting is of utmost importance. It truly can happen anywhere.
Save lives with help from ALICE
A popular program implemented into many communities across the nation is the ALICE Training Program provided by the ALICE Training Institute. There are specific trainings available for different parts of a community, including a program for government agencies. Policies, implementation tools, drills and scenarios, certifications and more are offered through the training. The institute seeks to prepare public servants in the event that the unthinkable happens.
The program name is representative of the five stages of response during a situation involving an active shooter: ALICE.

The Alert stage occurs when you first discover signs of a threat and are made aware of what's happening.
The Lockdown stage involves barricading a room promptly and safely, using mobile devices at the right time, connecting with police and preparing to either evacuate the space or counter the attack.
The Inform stage includes clear and concise communication of the specific position, direction and description of the intruder. Video surveillance, 9-1-1 calls and PA systems should be used during this time.
The Counter stage does NOT mean physically attacking the shooter. This last resort solution means to distract the shooter from being able to shoot precisely using noise and movement while distancing yourself from them.
The Evacuation stage means that a safe way out has become available. The training offers many tips for strategic evacuations, mentioning that it's better to break open a window from a top corner, rather than the center.
It's important for your employees to know that an active shooter situation ends before the police arrive 60 percent of the time, according to the FBI. This means that help isn't able to come right away—thus, making safe and strategic choices by the general public vital. Train your municipality on how to make these choices on their own through ALICE Training.
The Aftermath
Survivors of a mass shooting often suffer from Post-Traumatic Stress Disorder (PTSD). The images and sounds from an incident as unexpected and horrible as a mass shooting can stay in one's mind for the rest of their lives. Make sure to not only prepare your community and team of public servants on how to react to a shooting, but also on how to recover after it's over. Develop a support system that includes the following aspects:
Knowledge of symptoms—Anxiety, irritability, crying, paranoia, trouble sleeping, sudden flashbacks, withdrawal, numbness and confusion may occur. Watch for these behaviors from your employees and community members.
Reassurance—Survivor's guilt occurs when someone feels at fault for having survived an incident when others did not. Some also feel that they could've done more to save the people around them, experiencing rescuer's guilt. Remind your employees that everyone involved in the event did all that they could in such an unpredictable and senseless situation.
Professional help—Often times, mental health experts are called in to provide "psychological first aid" to a community after emotionally challenging trials. Offer this service to your employees.
Pet therapy—Meet the "second responders." After the Las Vegas shooting, Golden Retrievers were brought into Sunrise Hospital to relieve some of the grief that was felt by patients and staff. Many pet therapy establishments are available for your municipality to spread positive energy into your community.
There's never a guarantee that today will be just like yesterday. Prepare your employees to expect the unexpected and respond to an active shooter situation as safely as possible, and be there for your community with a support system after an event occurs.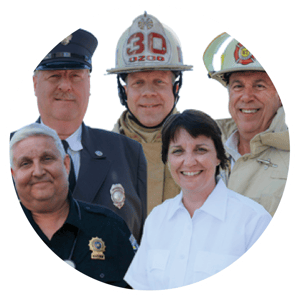 The Glatfelter Team
When this team of rockstars isn't immersed in the process of researching how to reduce the risks your organization faces, we share stories of our pets, kids and favorite pizza toppings—on the daily.
Related posts
A carefully thought out budget can positively impact your community. Consider these 3 tips to help stretch your budget and save more money in the long run.
Many don't realize that there are legal requirements when passing an emergency vehicle on the side of the road, making awareness campaigns critical.
As technology continues to advance, so do cybercrime tactics. Use these tips to help ensure your municipality isn't the next victim of a cyberbreach.